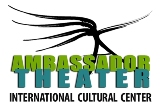 Contact: Hanna Bondarewska
(703) 475-4036; HannaB@aticc.org
or Eliza Anna Falk
(703) 618-1160;
eliza.falk@aticc.org
Literary Associate
Washington, DC, April 8, 2015
–For immediate release—
In Partnership with the Embassy of the Republic of Poland                                                                                        And the Department of Theatre and Dance at the George Washington University                                                                          Ambassador Theater Presents US Premiere of                                                        
THE TRAP
By Tadeusz Różewicz
...One of the most provocative and original of European playwrights of the post-war period….
Translated by Adam Czerniawski
Produced and Directed by Hanna Bondarewska
Music by Jerzy Satanowski
Sound by Paul Oehlers
Set Design by Carl Gudenius
Media Design by Riki Kim
Lighting Design by Michael Stepowany
Costumes by Sigridur Johannesdottir
Featuring: Matthew Payne, Colin Davies, Benjamin Koonz, Morganne Davies *, Alexander Rolinski, Ariana Almajan, Melissa Robinson, Madeline Burrows, Emily Gilson, Abigail Ropp, John Brennan, Peter Orvetti, Sue Schaffel, Ed Klein, Marlowe Vilchez, Michael S. Heller and Tiffany Pindell

WHERE: XX Bldg
814 20th Street NW, Washington DC
WHEN: May 28 – June 21, 2015
May 26, 27 Previews at 8 pm
May 28 at 8 pm, Opening & Reception follows
Saturday, 30, 8 pm Press Night
Thursdays – Saturdays at 8:00 pm; Matinees: Sundays at 3:00 pm
TICKETS: $20 – $40 Online: http://www.aticc.org/home/category/get-tickets
For 16 + Audiences
Media/Press: please e-mail us to reserve your tickets!
Please be advised there is a momentary nudity!

…anxieties and nightmares of an artist …Franz Kafka…
Inspired by life and work of Franz Kafka, "The Trap is a collage of events, images and sounds that deeply affected the artist.  Fears and nightmares, Kafka's real life companions, found their way into many of his short stories and novels which continue to fascinate and baffle readers all over the world. The play, one of Różewicz's last, is not only his poetic farewell to Kafka and a psychological portrait of an artist, but also his unique vision of Kafka's destiny. To realize the vision, the avant-garde playwright alters traditional conventions of time and space and traps Kafka in the ultimate nightmare of the 20th century- the Holocaust.
Are you ready to witness cruel destiny in the making? Are you ready to step into the artist's mind and experience his deepest fears and desires? Come and see The Trap and reflect on fragility of life and artistic creation. Join the Ambassador Theater's team in discovering the world of an artist and experience a unique 'open theatre' of Tadeusz Różewicz.
Ambassador Theater's mission is to build international cultural awareness, provide a high standard of international repertoire based on close relations with the diplomatic and cultural representatives of different countries in the United States, and provide international interactive educational programs for the youth of the District of Columbia, the D.C. Metro area, and around the United States.
ATICC is a 501(c)3 Nonprofit Organization. For more information, visit www.aticc.org