Washington, DC, September 20, 2015
–For immediate release—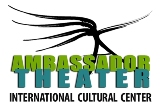 In Partnership with the Embassy of Spain and SPAIN arts & culture  
Ambassador Theater Presents
SMARTPHONES, A Pocket-Size Farce
By Emilio Williams
…One of the funniest and cleverest pieces of absurd theater…
Produced by Hanna Bondarewska
Directed by Joe Banno, Helen Hayes awarded director
Music/Sound by Gabriel Dib
Set & Lights Design by David Ghatan
Costumes by Lynly Saunders
Production Stage Manager Michelle Taylor
Featuring:
Ariana Almajan, Moriah Whiteman, Shravan Amin, Tekle Ghebremeschel and Hanna Bondarewska
WHERE: Mead Theatre Lab at FLASHPOINT
916 G Street NW, Washington DC
WHEN: October 20 – November 15, 2015; Thursdays – Saturdays at 8:00 pm; Matinees: Saturdays & Sundays at 2:00 pm
Oct. 20, 21 Previews at 8 pm; Oct. 22 at 8 pm, Opening & Reception follows
Press Night: Sat, Oct. 24, 8 pm; Special Q&A after the show with the author, Emilio Williams, director, Joe Banno and actors
TICKETS ONLINE: $20 – $40 Online: http://www.aticc.org/home/category/get-tickets
For 16 + Audiences
Media/Press: please e-mail us to reserve your tickets!
Welcome to the World of the Absurd and the Ridiculous and get ready to reflect on your own, in Emilio Williams's quirky pocket-size farce 'Smartphones'. Two couples addicted to social media and self-gratification get too close for comfort stuck in a house of their elusive friend, who may never arrive. While waiting for Fede and pestering their smartphones to 'death', the group begin to lose their cool. The lies are exposed, masks dropped, secret desires revealed in this fast paced comedy too ridiculous to be true, or is it?
The Team of Ambassador Theater is thrilled to present the play, Smartphones, by a Spanish playwright and director Emilio Williams. Williams' plays have been produced in Spain, Argentina, France, Estonia, the United Kingdom and the United States (including productions and performances in Chicago, New York, Washington DC, and Los Angeles). His most recent comedy "Your Problem with Men" was produced by Teatro Luna in Chicago, and has traveled to New York City, Los Angeles and the Edinburgh Fringe Festival. In 2012, his one woman show "Medea's Got Some Issues" received "Best International Show" at United Solo Festival, Off Broadway, New York City. That same year, his comedy "Smartphones – a pocket-size farce," received its world premiere at Trap Door Theatre in Chicago. The book was published as part of the anthology New Plays from Spain by Siegel Center. In 2010, his "dramedy" "Tables and Beds, an unromantic comedy"was selected among 80 plays from 12 countries as the winner of the 4th Premio el EspectáculoTeatral. Emilio has degrees in journalism and in film and video. In the 1990's, he worked for CNN in Atlanta and Washington. He worked for The Johns Hopkins University between 2001 and 2011. In 2011, he moved permanently to Chicago, the city where his father was born. He currently works for The University of Chicago developing the international business of its healthcare enterprise.
Ambassador Theater's mission is to build international cultural awareness, provide a high standard of international repertoire based on close relations with the diplomatic and cultural representatives of different countries in the United States, and provide international interactive educational programs for the youth of the District of Columbia, the D.C. Metro area, and around the United States.
Contact: Hanna Bondarewska, Artistic Director
(703) 475-4036; HannaB@aticc.org
or Eliza Anna Falk, Literary Director
(703) 618-1160; eliza.falk@aticc.org
ATICC is a 501(c)3 Nonprofit Organization. For more information, visit www.aticc.org