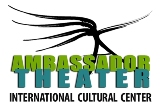 Ambassador Theater is looking for Assistant Director and Stage Manager  for the upcoming production of They Don't Pay? We Won't Pay by Dario Fo
Produced by Hanna Bondarewska
Directed by Joe Martin
In Partnership with the Embassy of Italy and Italian Cultural Institute
Casting Call December 14, 2015 6-10 PM at FLASHPOINT, 916 G Street, NW, Washington DC
The first rehearsals are starting January 5, 2016.
The scheduled run, March 2016, Wednesdays – Sundays
Previews: Tuesday March 1, 2, 2016
Opening Thursday, March 3, 2016
Thereafter, Wednesdays-Sundays to Sat., March 1-March 27, 2016
Rehearsal Schedule: Planned to start January 5, 2016
Actors are not called to all rehearsals, and sometimes only for a portion of rehearsal until the runs and tech.
Sat/Sundays: Generally 1pm-6 pm No evenings until tech week February 21-February 28, 2016
Weekdays: 6:30pm – 10:30 pm will takes place on Monday – Thursday generally, unless otherwise notified
(After the first two weeks of source work—reading, workshops, and ensemble work, this will be only 3 weekday nights)
Interested, please e-mail your resume at at ambassadortheater@aticc.org
These are paid positions
Looking forward to working with you!
Cheers,
Team of the Ambassador Theater